Our national herd comprises of 244 lac cattle, 12 lac buffalo, 200 lac goat and almost 30 lac sheep. In Bangladesh the overall prevalence of hemoprotozoan diseases is 16.18% and 12.02% in crossbred and indigenous cattle, respectively where babesiosis & anaplasmosis are predominant.
In fact, Babesiosis and Theileriosis are the two major tick borne hemoprotozoan diseases of cattle, particularly of crossbreed. Babesiosis was found consistently in different areas of Bangladesh. Hemoprotozoan diseases were predominant in summer season followed by rainy and winter seasons. Adult cattle were significantly susceptible to babesiosis than younger. Female animals were more susceptible to hemoprotozoan infections than male. It could be stated that breed and season are the important predictor of hemoprotozoan diseases.
Causal agent & Transmission:
Babesiosis: It is mainly caused by two species namely Babesia bigemina (large form) and Babesia bovis (Small form). The transmission is transovarian. The species are transmitted mostly by one host tick Boophilus microphilus. Multiplication occurs in ticks but not in the vertebrate host. Male ticks, nymph and adult female can transmit the disease.
Theileriosis: It is mainly caused by Theileria annulata and the disease is known as Bovine tropical theileriosis. The chief vector responsible for transmission is Hyalomma antolicum. The transmission is known as transtadial transmission.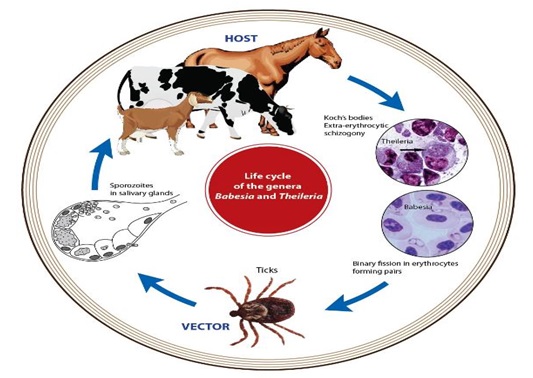 Clinical signs:
Babesiosis: Fever 41 to 45.5 C, anorexia, increase in respiratory and heart rate, anemia, jaundice, haemoglobinuria (coffee coloured urine), abortion in pregnant animals, either constipation or diarrhea. In chronic cases become carrier.
Theileriosis: High fever, capricious appetite (feeding till death), drop in milk production, cessation of rumination, enlargement of superficial lymphnode (may go up to coconut size), respiratory distress, pulmonary oedema, death due to anaemic anoxia.
Diagnosis: Differential diagnosis and post mortem is vital for proper diagnosis.
Differential diagnosis:
| | |
| --- | --- |
| Theileriosis | Babesiosis |
| Diseases of young cross breed | Diseases of adult dairy animals |
| Schizogony in lymphoid tissue of vertebrate host | Schizogony in tick |
| Trans-stadial transmission | Trans-stadial and trans-ovarian transmission |
| Hemoglobunuria is occasional | Hemoglobunuria is characteristics |
| Mucous membranes very pale | Very pale and icteric |
| Skin occasionally urticarial | No change |
Post mortem changes: Generally the carcasses re pale and emaciated.
In case of Babesiosis, Thin and watery blood, enlarged liver and distended gall bladder with dark green bile. Characteristic lesion intravascular clotting, edematous lung, kidney enlarge and dark.
In case of Theileriosis, Generalized enlargement of lymphnodes, enlargement and haemorrhagic spleen, ulcer on mucosa of abomasums, enlarged yellowish and mottled liver.
Treatment:
Success of treatment depends on right drug choice.
In case of Babesiosis: Diminazine aceturate is the best drug for treatment. In veterinary market it is available in two forms:
Granular form: It contains 44.5% of the active ingredient Diminazene and 55.5% of the preparation phenyldimethyl pyrazolone (Antipyrine).
Liquid form: It contains 7% of active ingredient Diminazene aceturate (i.e 70 mg/gm) and 37.5% phenazone.
This formulation is available as Babcop vet, Berenil vet 7% (Intervet, India), Babenil (Techno).
Dose & Administration: The usual dose for all animals is 3.5 mg/kg body weight or 5 ml per 100 kg body weight. Deep IM injection on the neck. Therapy can be repeated after 48-72 hours depending on severity of infection Imidiocarb dipropionate is another drug which may be used. It is available as Imicarp (Doctors agrovet), Babecure (Acme), Ectorid (Renata).
Dosage: Treatment: For babesiosis: Cattle/sheep: 1 ml /100 kg body weight.Horses, donkeys, mules: 2 ml/100 kg body weight, Dogs: 0.25 ml/10 kg body weight, Prevention: Cattle: 2.5 ml/100 kg body weight, protect for 4 weeks.
In case of Theileriosis: Buparvaquone is the most effective drug and recommended dose is 2.5 mg/kg BW, deep IM. The long acting Oxytetracycline (LA) is administered once 20 mg/kg BW, deep IM. Therapy can be repeated after 48-72 hours depending on severity of infection. Available formulation of Buparvaquone as Buparvet (Bridge) Butalex (Pitman Moore).
Dosage: 2.5 mg per kg or 1 ml per 20 kg body weight, IM into the muscles of the neck. In severe case, a second dose may be given within 48-72 hours of the initial injection.
In both cases, Supportive therapy like blood transfusion (4 liter of whole blood per 250 kg body weight), fluids, liver extract, vitamin B complex, iron preparations may be advised.
Control: It can be done in three ways:
1. Chemoprophylaxis: For Theileriosis buparvaquone is the current drug of choice given at the dose rate of 2.5 mg/kg IM at the age of 7-10 days or 8-25 days or at the age of 30 days.
2. Vaccination: Vaccine can be given at the age of 2 months.
3. Tick control: Tick control is important in the control of both diseases.
A. Physical control of Ticks: It can be done by:
a) Burning of pasture at the end of grazing season.
b) Burning of cracks and crevices in the cattle shed.
c) Rotational grazing.
d) Zero grazing for calves.
e) Fumigation of building or beginning of monsoon season.
B. Chemical control of ticks:
a) Use acracideises like Coumaphos, Cypermethrin, diazinon, permethrin, dichlorvos, trichlorphon.
b) Injection of Ivermectin at the dose rate of 200microgram/kg body weight subcutaneously.