Bangladesh Society for Veterinary Microbiology and Public Health (BSVMPH) jointly with the Department of Microbiology and Hygiene, Bangladesh Agricultural University, Mymensingh is going to hold its First Annual Conference on 19 May 2012 (Saturday) at BAU Campus. The conference includes four key notes, open paper presentation and poster session.
Four (4) key notes
The realization of the One Health Concept : activities to control HPAI in Bangladesh. by- Dr. Friederike Mayen, International Consultant, FAO, Bangladesh.
Present status and future prospects of veterinary microbes in Bangladesh. by- Prof. Dr. M. Mansurul Amin, BAU

The way to forward for harmonized integration across spectra of VPH activities, food safety and consumers protection. by- Prof. Dr. Muhammad Mufizur Rahman, BAU

Building inter-linkage between veterinary and medical practitioners in controlling diseases of zoonotic importance. by- Prof. Dr. Nitish Chandra Debnath, National Consultant, FAO, Bangladesh.

The conference is expected to be participated by veterinary microbiologists, public health/food hygiene and related scientists working in Bangladesh and abroad.
Registration information
Registration fee: 
Tk. 400.00 (General)
Tk. 200.00 (Post-grad. students)
Registration fee includes the cost of folder, proceedings, lunch, tea and conference dinner.
Deadlines:(Extended)
10 May 2012 (General)
10 May 2012 (Presenter)
The registration form is available at HERE.
For registration, please contact –
Dr. Mst Minara Khatun, Chairman, Registration and Decoration Sub-committee
Dr. Mahbubul Pratik Siddique, Secretary, Registration and Decoration Sub-committee,
Cell: 01717-979814 (Chairman), 01719-079957 (Secretary)
E-mail: mpsiddique77(at mark)gmail.com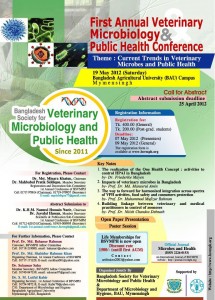 Abstract Preparation and Submission
Criteria to prepare and submit an abstract:
1. The abstract must be written within 300 words in English (US spelling) using MS Word 2003 or 2007.
2. Letter font: Arial
3. Title of the abstract: 12 point, bold face
4. Author(s) name(s) should be in full. Corresponding author should be mentioned with an asterisk (superscript to right), and full address, telephone(cell) and e-mail should be mentioned (11 point and bold).
5. Presenting author must be underlined and itallic (11 point and bold)
6. Affiliation details of the author(s) should be itallic. It is noted that the address should be the one where the work has been done. If the author is not at the working laboratory now, his present address should be mentioned in affiliation indicating a right-superscript numercal value. More than one affiliations should be indicated right supercript numerical value. (11 point and bold)
7. Text: 11 point, single line space
The text should be included:
Introduction and background
Objective(s)
Materials and Methods
Results
Conclusion/Concluding remark
4-6 key words
8. Page set up: A4 size, one inch space in all sides.
Call for Abstracts
The abstract should be submitted only by e-mail to –
Dr. K.H.M. Nazmul Hussain Nazir, Chairman, Scientific and Publication Sub-committee
Dr. Jayedul Hassan, Secretary, Scientific and Publication Sub-committee
Cell: 01712-620151 (Chairman), 01918-068995 (Secretary)
E-mail: 1st.annual.conference.bsvmph(at mark)gmail.com
Abstract deadline: 10 May 2012, 05:00 pm(Extended date)

Original research papers describing completed or on-going research work and advanced microbiology and public health research works are welcome. Each speaker will be allocated 12 min for presentation and discussion. The deadline for submission of abstracts is 30 April 2012. The acceptance of the abstracts will be notified by first week of May. Poster size: 45×35 inches.
Excellent Paper Award and Excellent Poster Award will be given at the conference. Also, three (3) Travel Grants for young scientists will be provided. Please apply for Travel Grant to- bsvmph@gmail.com
For further information, please contact –
Prof. Dr. M. Shahidur Rahman Khan
Organizing chairman, 1st Annual Conference of BSVMPH
Cell: 01717-171329, E-mail: msrkhan001(at mark)yahoo.com

Dr. SM Lutful Kabir
Organizing secretary, 1st Annual Conference of BSVMPH
Cell: 01754-987218E-mail: lkabir79(at mark)yahoo.com
Department of Microbiology and Hygiene
Faculty of Veterinary Science
Bangladesh Agricultural University
Mymensingh-2202, Bangladesh
BSVMPH Adhoc Committee:
Prof. Dr. Md. Bahanur Rahman
Convener, BSVMPH Adhoc Committee
Cell: 01718-218080; E-mail: bahanurr(at mark)yahoo.com
and
Dr. Sukumar Saha
Member Secretary, BSVMPH Adhoc Committee
Cell: 01740-847339; E-mail: sukumar07(at mark)gmail.com
C/O. Department of Microbiology and Hygiene
Bangladesh Agricultural University
Mymensingh-2202, Bangladesh
Organizing Committee
Organizing Chariman
Prof. Dr. M. Shahidur Rahman Khan
Bangladesh Agricultrual University
Organizing Secretary
Dr. SM Lutful Kabir
Bangladesh Agricultrual University
Members
Prof. Dr. M. Abu Bakar Siddique
Sylhet Agricultural University
Prof. Dr. Paritosh Kumar Biswas
Chittagong Veterinary and Animal Sciences University
Prof. Dr. M. Mostafizer Rahman
Hajee Danesh Science and Technology University
Dr. K. M. Mozaffor Hossain
Rajshahi University
Dr. Mohammad Enamul Hoque Kayesh
Patuakhali Science and Technology University
Dr. M. Shahin Alam
Bangladesh Livestock Research Institute
Dr. M. Ainul Haque
Department of Livestock Services
Dr. M. Salahuddin Khan
ICDDR,B
Dr. Huzzat Ullah
Livestock Research Institute, Dhaka

Dr. Sadekur Rahman
Opsonin Pharma
Dr. Kh. M. Mahmud Hossain
PVF Agro Limited
Dr. M. Mohituzzaman
Orion Biocare Limited
Dr. M. Sorwar Jahan
Phenix Hatchery Ltd
Dr. Rakibul Islam
The Acme Laboratories Ltd
Dr. M. Sohel Rana
CP Company (BD) Ltd
Dr. Monojit Das
Prime International
————- Conference Secretariat
Department of Microbiology and Hygiene
Faculty of Veterinary Science
Bangladesh Agricultural University
Mymensingh-2202, Bangladesh
Cell: 01754-987218
E-mail: lkabir79(at mark)yahoo.com
Source & for further information: http://bsvmph.org/